ACR Electronics RCL-85 LED Searchlight
The ACR Electronics RCL-85 LED searchlight is an innovative solution designed for boaters looking to transition from the traditional halogen searchlights to a more affordable option. The searchlight's powerful features offer 240,000 candelas using 6 High Flux (30W) LEDs and provides visibility over half a nautical mile ensuring a well-lit navigation to your destination.
Notably, the installation is simple and only necessitates a 12 to 24 volts power connection to the searchlight, and all operations are entirely wireless. The modern design of the RCL-85 LED makes it a cost-effective and visually appealing option for small to medium-sized recreational powerboats as well as light commercial vessels.
The package includes a wireless handheld remote that allows users to rotate the light 350 degrees. With an 8 degree beam angle, the light can tilt 90 degrees to facilitate the lighting of drawbridges, buoys, and docks. Additionally, it includes a Strobe function useful for signaling during emergencies.
The RCL-85 is built with weather-resistant features; the electronics are embedded in the IP68 water-resistant light head instead of the base, offering increased protection. Further, the ASA housing and lens are sealed to keep the elements at bay, thus ensuring trouble-free operation over the years.
Key features:
6 High Flux 30W LEDs (OSRAM) – 50,000 Operating Hours
240,000 Candela, Max Beam Distance 3,215 Feet (980 m)
350° Rotation and 90° Tilt
2 Amps (12V) to 1.1 Amps (24V)
UV and Weather Resistant
Simple Installation (12-24V Power Connection Only)
The RCL-85 White and Black LED Searchlight models, both with a wireless remote control, offer the same exceptional value, overall bright illumination, and beam distance. These units are not only easy to install and control, but their design provides multiple applications such as aiding night-time navigation, signaling other vessels, illuminating landmarks, man overboard searches, assisting docking maneuvers, and enabling night-time fishing expeditions.
With an appealing sleek design fit for small to medium-sized recreational powerboats and light commercial vessels, the RCL-85 provides a practical and cost-effective lighting solution. Whether you need everyday navigation lighting or emergency signaling, this weather-resistant and durable LED searchlight is a valuable addition to your maritime kit.
Where to Buy:
Acr Electronics RCL-85 LED Searchlight
AMAZON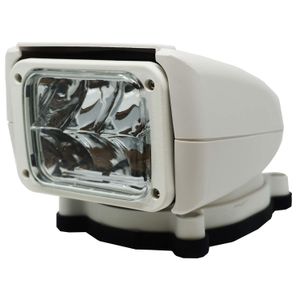 Acr Electronics RCL-85 LED Searchlight
WESTMARINE
ACR Electronics ACR RCL-85 White LED Searchlight w/ Wireless Remote - 12/24V
TACKLEDIRECT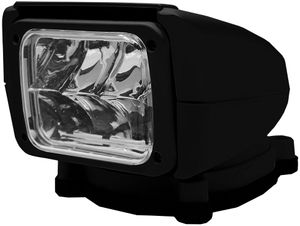 ACR Electronics ACR RCL-85 Black LED Searchlight w/ Wireless Remote - 12/24V
TACKLEDIRECT