Overview of 303 Products Aerospace Protectant
303 Products' Aerospace Protectant is an advanced sun-protective solution primarily designed to shield boat and water gear against deleterious effects of continued exposure to sun's ultraviolet rays. With its usage, you can keep your boat's seats, sails, hull and windows in impeccable condition. Applying the protectant is effortless, merely spray it on and wipe it dry to restore the color and sheen of your gear. It is safe for numerous materials including vinyl, Plexiglas, carbon fiber, rubber, plastics and finished leather. Beyond safeguarding your boat equipment, it is effective on outdoor gear and apparel too. It not only abates the risk of color fade and cracking even in the harshest and sunniest marine environments, but also facilitates ease of equipment storage by preventing inflatable boats from sticking together.
Key Features of 303 Products Aerospace Protectant
Effective for maintaining vinyl awnings, prevents fading and cracking.
Can be used on tires, transforms them to a near-new appearance, devoid of any greasy film.
Potent UV blockers in the product forestall fading, cracking and premature aging of your gear.
After application, it dries to a clear matte finish, refurbishes lost color and luster.
User-friendly, just requires spraying on the subject and wiping it dry.
Additional Usage Benefits of 303 Products Aerospace Protectant
The 303 Aerospace Protectant is multi-purpose, apart from serving the boating community, it services a broad range of applications. For instance, this eco-safe UV protectant can be used to protect plastic and leather items, sports gear like fishing equipment and kayaks, Hypalon boat tubes, and more. It also helps to maintain other rubber and plastic parts, fiberglass materials, Lexan surfaces, and even wet and dry suits.
Where to Buy: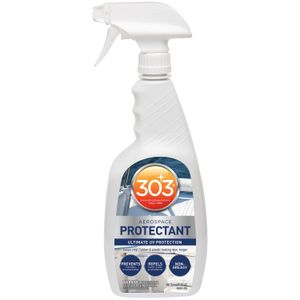 303 Products Aerospace Protectant
AMAZON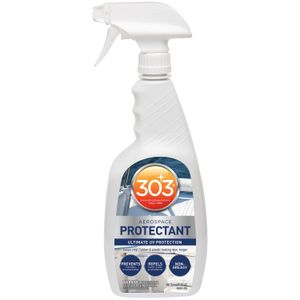 303 Products 303® Marine & Recreation Aerospace Protectant™, 32oz.
WESTMARINE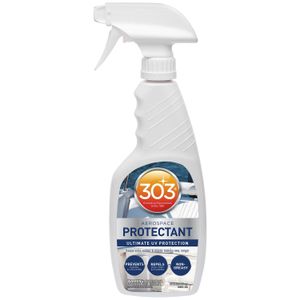 303 Products 303® Marine & Recreation Aerospace Protectant™, 16oz.
WESTMARINE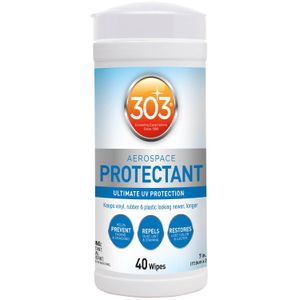 303 Products 303 Aerospace Protectant Wipes, 40 Towelettes
WESTMARINE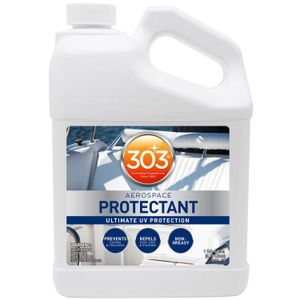 303 Products 303® Marine & Recreation Aerospace Protectant™, Gallon
WESTMARINE