Fortress Anchors Aluminum Anchors: Security and Convenience
Keep your spare and storm anchors easily within reach with Fortress Anchors Aluminum anchors. Having storm anchors aboard can prove to be a critical safety measure. The Fortress Stowaway Anchor Bag offers a practical and efficient solution for stowing your Fortress or Guardian anchor, ensuring that you'll never have to scramble for wrenches, shackles, or chain.
Key Features
Constructed for durability in the harsh marine environment
High strength, extra wide Velcro used for bag closure and straps
Straps double as convenient carrying handles
Uniformly-sized inside pouches hold wrenches, spare fluke clip, bolt and nut (included)
Instructions sewn into the bag ease anchor assembly and bag packing
Custom designed for Fortress anchors
Material: Rugged ballistic Cordura
Includes: Stowaway bag, wrenches, spare fluke clip, bolt and nut
Stowaway Bag Selection Chart
Please refer to the Stowaway Bag Selection Chart to select the appropriate bag for your Fortress anchor.
Fits Anchor:
Stowaway Bag
Overall Length (in)
Overall Length (cm)
Wrenches (2) (in)
Wrenches (2) (mm)
Model


Fortress Anchors are preferred for their lightweight, high-tensile aluminum-magnesium alloy construction, lack of metal-weakening welds, adjustable shank angles (32° for sand and 45° for soft mud), and easy assembly and disassembly. Since 1986, Fortress has outperformed competitors in anchor comparison tests, providing unparalleled anchor holding power at a fraction of the weight. Every Fortress and Guardian anchor comes equipped with Mud Palms, plates that fasten to the anchor crown to increase set speed in any type of sea bottom.
Anchor Selection Chart
Find the right Fortress Anchor for your boat with the Anchor Selection Chart. Our recommendations are based on average boat windage and proportions, 30 knots of wind, average bottom conditions, and moderate protection from open seas. In storm conditions, it is beneficial to choose an anchor one or two sizes larger.
Fortress Model
Boat Length (ft.)
Boat Length (m)
Weight (lb.)
Weight (kg)
Replaces Steel Fluke Anchors (lb.)
Replaces Steel Fluke Anchors (kg)
Holding Power (32° Hard Sand)
Holding Power (45° Soft Mud)
Support Hardware (Proof Coil Chain, Nylon Rope, Shackle Size)


Where to Buy: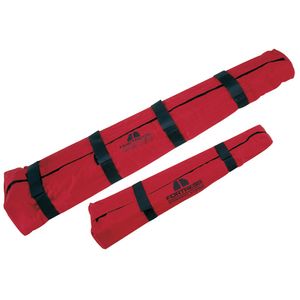 Fortress Anchors Aluminum Anchors
AMAZON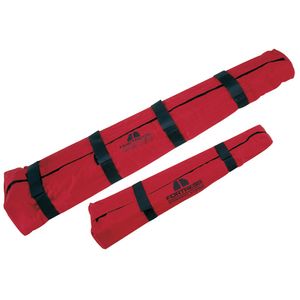 Fortress Anchors Fortress Stowaway Anchor Bag
WESTMARINE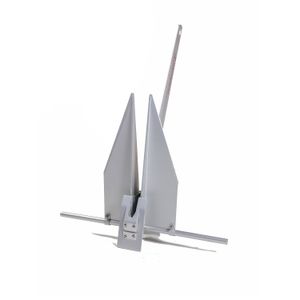 Fortress Anchors Fortress Aluminum Anchors
WESTMARINE