3M Company 4200 Fast Cure Polyether Adhesive Sealant
The 3M Fast Cure 4200 White 3oz Tube is a versatile one-part, all-purpose polyurethane adhesive/sealant that undergoes a chemical interaction with moisture. This reaction results in the formation of adaptable bonds with good adhesion properties, making it suitable for a range of materials such as wood, fiberglass, gelcoat, and metals, along with some types of plastic.
This product can guarantee flexible, watertight, and weather-resistant seals on various joints and hardware. It can be utilized effectively either above or below the waterline. However, please note that its strength is only about half that of 3M's 5200, which enables the potential dismantling of parts.
Special attention should be given to its use on teak decks, as certain teak cleaners or sealers may permanently soften it, hence its usage is not encouraged in these cases. For plastics, compatibility with 3M Fast Cure 4200 must be first tested before usage.
Key Features
Creates watertight, weather-resistant seals
Chemically reacts with moisture resulting in flexible bonds
Can be used above or below the waterline
Cleans up with mineral spirits or kerosene
Specifications
Formulation: One-part fast-cure polyurethane adhesive/sealant
Recommended Usage: Fiberglass, wood, metal, some plastics, above or below water
Material Incompatibility: Acrylics, ABS, Lexan
Cure time: Tack-free in 2 hours; Complete cure in 24 hours
Cleanup: Mineral spirits or kerosene
Removal: Mechanical removal
Tensile Strength: 300 psi
When an extremely high strength or unremovable bonds are necessary, it is recommended to use 3M Marine Adhesive/Sealant 5200 or Fast Cure 5200 in place of this product.
Where to Buy:
3M Company 4200 Fast Cure Polyether Adhesive Sealant
AMAZON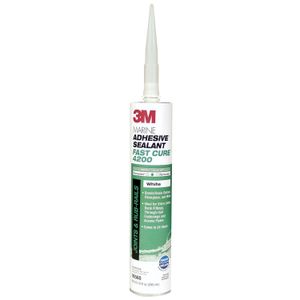 3M 4200 Fast Cure Polyurethane/Adhesive Sealant, White
WESTMARINE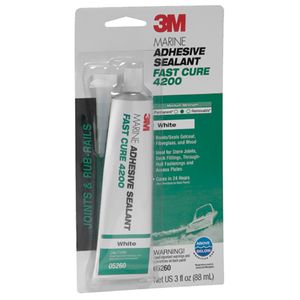 3M 4200 Fast Cure, White, Polyurethane Adhesive/Sealant, 3oz.
WESTMARINE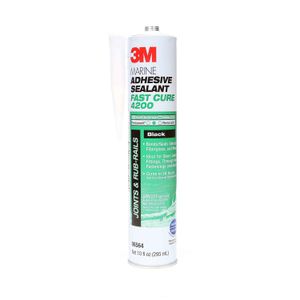 3M 4200 Fast Cure Polyurethane/Adhesive Sealant, Black
WESTMARINE
3M Company 3M Fast Cure 4200 White 3oz Tube
TACKLEDIRECT