Flir M300C Stabilized Visible IP Camera
The Flir M300C provides a high-performance visible marine camera combined with extensive optical zoom capability. Catering to commercial, law enforcement, and recreational applications, the M300C delivers positive target identification. Benefitting from advanced gyro-stabilization technology, it assures steady imaging even in rough sea conditions, enabling continuous monitoring of targets or risks over great distances.
Key Features include:
30x Optical zoom for enhanced target identification
Ultra-low light camera technology, ensuring visible imagery even in extreme lighting conditions
Unique FLIR technology for intelligent recognition of other vessels and floating objects
Two-axis mechanical stabilization to greatly reduce the effects of pitch, heave and yaw
Additional M300C Datasheet Information
The M300C camera also offers unrivaled low light performance, significantly improving captain awareness when dusk arrives. It features a HD visible imaging sensor and extensive zoom; providing superior long-range imaging, outclassing even binoculars.
High Definition Navigation
Real-time overlay of AIS targets, chart objects, and waypoints when paired with Raymarine Axiom and Clear Cruise™ augmented reality technology
A Steady View in Rough Seas
Stable viewing in heavy seas maintained through two-axis mechanical stabilization
Electronic stabilization to mitigate low-frequency rumble and vibration
Integrated AHRS (Attitude Heading Reference Sensor)
Horizontal stabilization automatically adjusts the camera during maneuvering
Seamless Integration
Extraordinary connectivity with security and navigation systems
Optional joystick control unit and compatibility with multifunction navigation displays (JCU2)
ONVIF compliance for PTZ security camera functionality
H.264 IP video stream and HD-SDI lossless digital video interface
Composite analog video (SD) support, enabling integration with legacy displays
Where to Buy: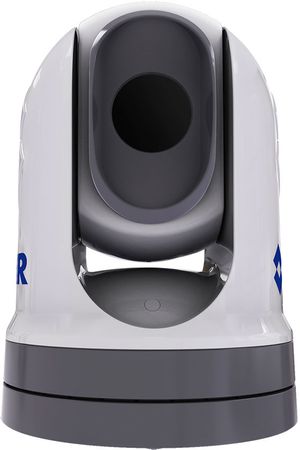 Flir M300C Stabilized Visible IP Camera
AMAZON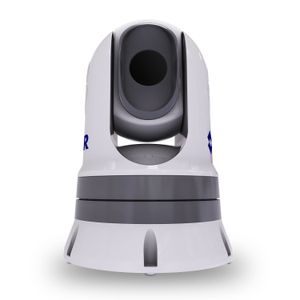 Flir M300C Visible Camera
WESTMARINE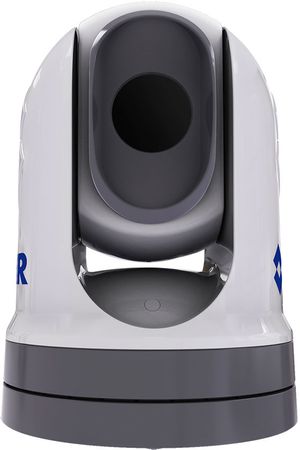 FLIR M300C Stabilized Visible IP Camera
TACKLEDIRECT