Garmin Airmar B117 Thru-Hull Dual Frequency Transducer
The Garmin Airmar B117 provides traditional dual-frequency depth and temperature readings through a nearly flush, mushroom head design. It is a low-profile transducer made of bronze, specifically compatible with sounder modules like GSD 24 or GSD 22. This transducer is most suited for application on wood and fibreglass hull materials.
Key Features
Designed to be nearly flush with the hull, with only 3/16″ protruding outside, thus minimizing drag.
Features a 50kHz 45°/200kHz 12° beamwidth.
Installation requires a 2″ diameter hole.
Specifications
Application: Particularly common in sailboat installations.
Style: Thru-hull mounting.
Cable Length: 39 feet.
Hull Deadrise: 0°-8°
Monitors: Depth and Temperature.
Material: Bronze.
Transmit Power: 600W (RMS).
Frequency: 50/200kHz.
Max. Depth: 50kHz: 1,200′ / 200kHz: 700′.
Element Tilt Angle: 0°.
Beamwidths: 45°/12°.
The B117 Bronze Thru-Hull Transducer maintains optimal performance even at high speeds. This 8-pin, 600W device is compatible with both fibreglass and wood hulls. It possesses a depth range of 800 to 1,200 ft, an operating frequency of 50 to 200 kHz, a beamwidth of 45 to 12 degrees, and a 0 to 7-degree deadrise. Installation instructions are included with the transducer kit; follow them carefully to prevent any damage to your boat. Note that this device is not suitable for use on metal hulls. When pairing with a 6-pin Garmin sounder, a transducer adapter cable is required.
CAUTION: This product may contain chemicals known to the State of California to cause cancer, birth defects, or other reproductive harm. For more information, visit P65Warnings.ca.gov.
Where to Buy: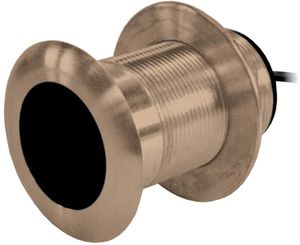 Garmin Airmar B117 Thru-Hull Dual Frequency Transducer
AMAZON
Garmin Airmar B117 Thru-Hull Dual Frequency Transducer
WESTMARINE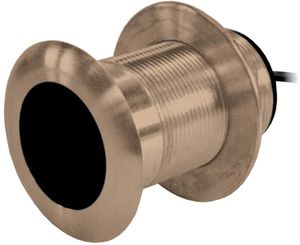 Garmin B117 Bronze Thru-Hull Depth/Temp - 8-Pin - 010-10182-21
TACKLEDIRECT