Garmin Airmar B60 Thru-Hull Dual Frequency Transducer
The Garmin Airmar B60 is an entry-level tilted bronze transducer that can handle hull deadrise angles of both 16° to 24°, and 8° to 15°, eliminating the need for a fairing. It is exclusively designed for use with various Garmin models such as 5x7xs, 7x1xs, echoMAP 50dv, 70dv, 800xs Series, 1000xs Series, and GSD 24. Additional compatibility includes 4x1s, 5x1s, 5x6s, 7x0s, and GSD 22 when used with an 8-pin transducer to 6-pin sounder adapter (Model 13178355).
This transducer is an excellent option for fiberglass and wood hulls, but does not accommodate metal hulls.
Specifications
Style: Thru-hull
Cable Length: 39′
Connector: 8-pin
Maximum Deadrise Angle: Deadrise angles between 16°-24° and 8°-15°
Monitored Elements: Depth and Temperature
Material: Available in both Plastic and Bronze models
Transmit Power: 600W
Frequency: 50/200kHz
Maximum Depth: Ranges from 800′ to 1,200′
Beamwidths: 45°/12°
The B60 600W Tilted Element featuring 8-Pin, is Garmin's bronze, thru-hull mount transducer, which offers 20°; tilt. It provides depth and temperature data, operating at a frequency of 50 or 200 kHz, and mounts on a 16-24°; deadrise angle.
WARNING: This product can expose you to chemicals known to the State of California to cause cancer or reproductive harm. For additional information, please visit P65Warnings.ca.gov.
Where to Buy: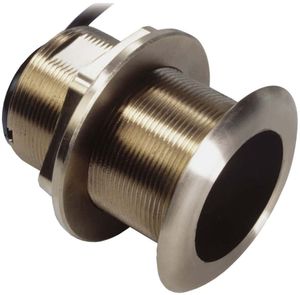 Garmin Airmar B60 Thru-Hull Dual Frequency Transducer
AMAZON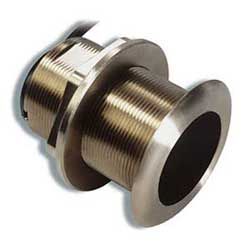 Garmin Airmar B60 20° Tilted Thru-Hull Dual Frequency Transducer
WESTMARINE
Garmin Airmar B60 12° Tilted Thru-Hull Dual Frequency Transducer
WESTMARINE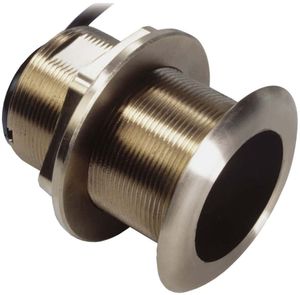 Garmin B60 600W Tilted Element - 8-Pin - 20 Degree - 010-10982-20
TACKLEDIRECT