GoPro HERO5 Black 4K Ultra HD Waterproof Camera
With its advanced functionality and ease of use, the GoPro HERO5 Black 4K Ultra HD Waterproof Camera is heralded as "the best GoPro ever" and offers a host of remarkable features:
Voice Control
You can conveniently control the HERO5 Black hands-free through simple voice commands, enabling you to focus all of your attention on your adventure and not on the camera.
Touch Display
The camera boasts a 2″ diagonal touch display that allows you to preview and play back your shots, modify your settings, and trim your footage directly on your camera.
Advanced Video Stabilization
Regardless of whether the camera is handheld or attached to your favorite gear, it captures exceedingly smooth video, even in shaky situations.
4K Video
The HERO5 Black offers cinema-quality super slow motion and ultra high resolution, even under low-light conditions. Different recording options, such as 4k30, 2.7K60, 1440p80, 1080p120, 960p120, and 720p240 fps, are available for use.
12MP Photos
Choose from single capture, Burst photos at 30 fps, Time Lapse mode with set time intervals from 0.5 to 60 seconds and an improved low-light performance. HERO5 Black has now incorporated RAW photo capture and Wide Dynamic Range (WDR) photo capture to provide the best quality pictures.
Protune™ Controls
With advanced manual controls for photos and video such as color, ISO limit, white balance, sharpness, and more, and minimally compressed video, the HERO5 Black allows ultimate creative control.
Waterproof Feature
The HERO5 Black is waterproof up to 33 feet (10m) without a special housing.
GPS Location Capture
With the built-in GPS Location Capture feature, never forget the location of your most unforgettable shots.
Audio Quality
The Advanced Wind Noise Reduction feature automatically filters wind noises, providing clean, high-fidelity stereo audio.
GoPro Plus
Upon subscribing to GoPro Plus, your HERO5 Black can automatically upload photos and videos to the cloud for easy access and sharing purposes.
Quik™ Video Editing App
Create impressive videos with the free mobile and desktop app, Quik.
Connectivity
Stay connected with all the GoPro apps and accessories through the HERO5 Black's built-in Bluetooth and Wi-Fi features.
HiLight Tag
This feature allows you to tag your best clips, making the later playback, editing, or sharing of the clips a breeze.
Versatile Mounting Options
The HERO5 Black can be mounted to virtually anything, including yourself, with available choices from over 30 GoPro mounts and accessories.
Included in the box are the HERO5 Black Camera, The Frame, a Rechargeable Battery (specific to HERO5 Black), a Mounting Buckle, Curved and Flat Adhesive Mount, and a USB-C Cable.
Where to Buy: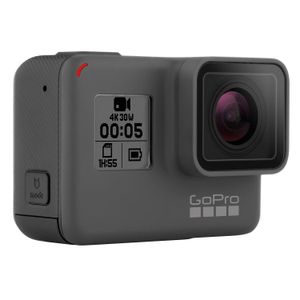 Gopro HERO5 Black 4K Ultra HD Waterproof Camera
AMAZON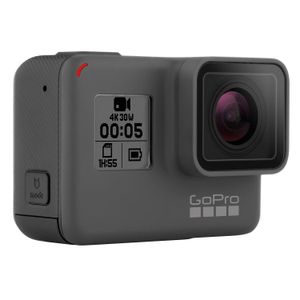 Gopro HERO5 Black 4K Ultra HD Waterproof Camera
WESTMARINE