Lowrance Elite-5 HDI Fishfinder/Chartplotter Overview
The Lowrance Elite-5 HDI Fishfinder/Chartplotter boasts the power of two award-winning technologies combined in one Hybrid Dual Imaging (HDI) transducer to provide the best possible view beneath your boat. Notably, the Broadband Sounder™ is highly useful for marking fish arches and tracking lure action, while the DownScan Imaging™ presents easy-to-understand, picture-like detail of bait fish, predator fish, and other underwater structures without need for interpretation. The device's exclusive technology overlays DownScan Imaging onto Broadband Sounder display, giving a clear, stunning view that separates and exposes fish targets from the surrounding structure.
Primary Features
TrackBack™ Into Sonar History: This feature enables immediate scroll back in sonar history to review covered areas and pinpoint spots.
Page Selector: This menu system provides quick access to all features using one-thumb operation along with eight preset page layouts.
Multi-Window Displays: Allows you to select up to three panels in split-screen mode to view chart, sonar and DownScan Imaging all on one screen simultaneously.
Technical Specifications
General Overview
The Lowrance Elite-5 HDI comprises of a 5″diag, 256-color SolarMAX™ PLUS TFT screen with a horizontal and vertical pixel count of 480. Other significant features include an internal high-sensitivity GPS antenna with external antenna option, enhanced US Lakes preloaded cartography, dimensions measuring 6 15/16″W x 5 7/16″H x 2 1/2″D, frequency of 83/200/455/800kHz, transmit power of 500W (RMS), maximum depth of 1,000′ and an included transom-mount transducer. The device also has an NMEA 0183 output with an IPX7 waterproof rating.
Additional Features and Specifications
Beyond its general specifications, the Lowrance Elite-5 HDI includes a range of advanced features:
High-resolution, 5-inch color display
Hybrid Dual Imaging™ (HDI) Technology
Built-in GPS antenna with a detailed U.S. map featuring over 3,000 lakes, rivers, and coastal contours to 1,000 feet
DownScan Overlay™ technology and Advanced Signal Processing (ASP)
TrackBack™ for reviewing recorded sonar history and pinpointing locations
Page selector menu for quick and easy access to all features
Multi-Window Display for quickly choosing from pre-set page layouts
Crucially, the Elite-5 HDI is supported by the Lowrance Advantage Service program.
Where to Buy: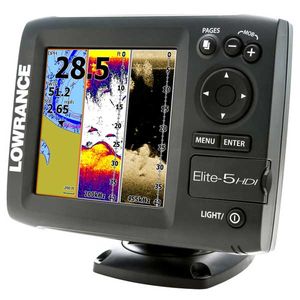 Lowrance Elite-5 HDI Fishfinder/Chartplotter
AMAZON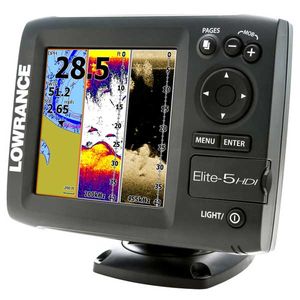 Lowrance Elite-5 HDI Fishfinder/Chartplotter Combo
WESTMARINE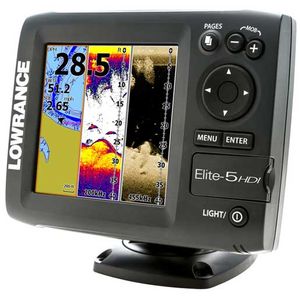 Lowrance Elite-5 HDI Gold Fishfinder/Chartplotters
WESTMARINE