Mercury Marine Quicksilver Silverado 3-Blade Stainless Steel Propeller
The Silverado line of stainless steel propellers by Mercury Marine is a perfect blend of durability and performance. This premium propeller is five times more durable than its aluminum counterparts and provides superior operational efficiency.
Key Features of Quicksilver Silverado Propellers:
Five times the durability of aluminum propellers.
With a higher repairability quotient, it surpasses aluminum propellers.
Fewer tendencies for blade flex due to thinner blades.
The inclusion of a modular design necessitates the separate purchase of a hub kit.
Designed for compatibility with 40-350hp outboards and sterndrives.
Sourcing the Right Propeller
Choosing the right propeller for your watercraft can be streamlined by following our 'Selecting a Propeller' guide available in the 'Advice' section of this page. For more specific selection, use our comprehensive Quicksilver Propeller Selection Guide. This guide includes details about the Silverado range and other Quicksilver products.
Quicksilver Modular Propeller System – An Added Advantage
The innovative Quicksilver Modular Propeller System, also known as Flo-Torq II Hub Kits, provides the option to effortlessly switch propellers, change pitch, swap from aluminum to stainless, or replace a damaged propeller. In the event of a substantial underwater obstruction, the Flo-Torq II System's Delrin sleeve is designed to "break away" following impact. This design minimizes any possible damage to the engine, engine drive and propeller. Contrastingly, competitive hub systems exhibit delayed breakaway, thereby increasing the risk of severe damage to the engine and the drive. Additionally, the sleeve in Flo-Torq II system can be conveniently replaced by the user.
Where to Buy: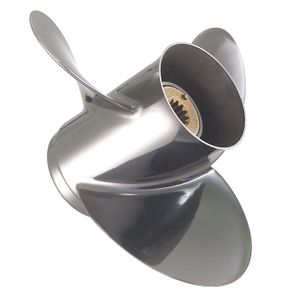 Mercury Marine Quicksilver Silverado 3-Blade Stainless Steel Propeller
AMAZON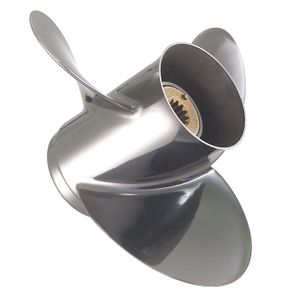 Mercury Marine 14 1/2" x 15" Quicksilver Silverado 3-Blade, RH, Stainless Steel Propeller
WESTMARINE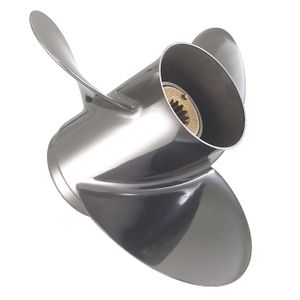 Mercury Marine 13 3/4" x 21" Quicksilver Silverado 3-Blade, RH, Stainless Steel Propeller
WESTMARINE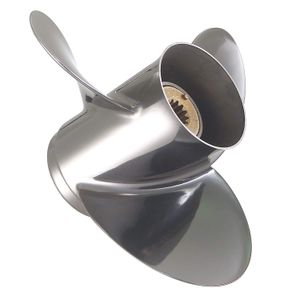 Mercury Marine 13 1/2" x 23" Quicksilver Silverado 3-Blade, RH, Stainless Steel Propeller
WESTMARINE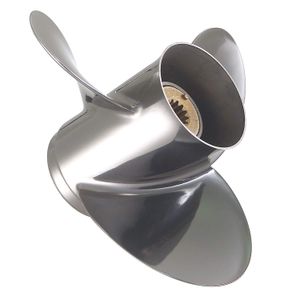 Mercury Marine 13" x 18" Quicksilver Silverado 3-Blade, RH, Stainless Steel Propeller
WESTMARINE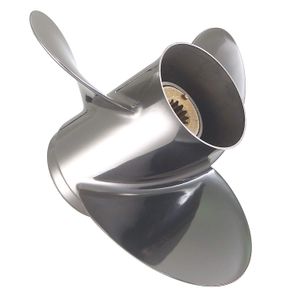 Mercury Marine 10 3/8" x 14" Quicksilver Silverado 3-Blade, RH, Stainless Steel Propeller
WESTMARINE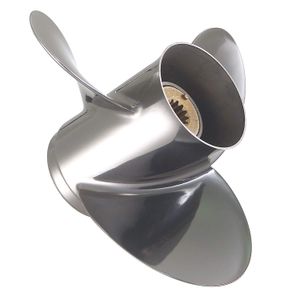 Mercury Marine 13 1/8" x 16" Quicksilver Silverado 3-Blade, RH, Stainless Steel Propeller
WESTMARINE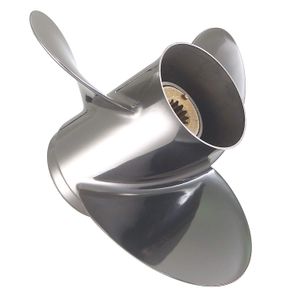 Mercury Marine 14" x 19" Quicksilver Silverado 3-Blade, RH, Stainless Steel Propeller
WESTMARINE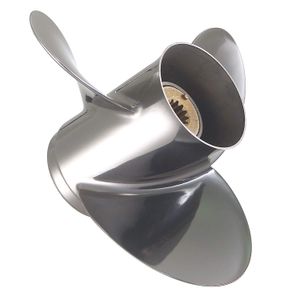 Mercury Marine 10 1/4" x 15" Quicksilver Silverado 3-Blade, RH, Stainless Steel Propeller
WESTMARINE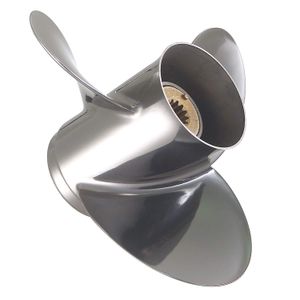 Mercury Marine 13 3/8" x 14" Quicksilver Silverado 3-Blade, RH, Stainless Steel Propeller
WESTMARINE