PENN® Battle® III 5000 Spinning Reel
The PENN® Battle® III represents an enhancement in strength, smoothness, and durability, providing superior performance. It combines Penn's proprietary CNC Gear™ Technology, the HT-100™ carbon fiber drag system, and a Full Metal Body, equipping the Battle III with the capacity to withstand substantial wear and tear. The Battle III series caters to a wide variety of anglers, offering models ranging in size from 1000 to 10000. It provides exceptional value without compromising on quality.
Key Features:
Full Metal Body and sideplate
CNC Gear™ technology
HT-100™ carbon fiber drag washers
5+1 sealed stainless steel ball bearing system
Line Capacity Rings
Dedication to Saltwater Anglers:
The Penn Battle III Spinning Reels are tailor-made for the saltwater angler, designed to handle extreme conditions with ease. They're crafted to be resilient, with a full metal body, the HT-100 carbon fiber drag system, and CNC gear technology. These durable reels deliver the perfect combination of strength and affordability.
Gearing Specification:
The CNC gear technology features a Brass pinion with an aluminum main for the 1K – 5K models and Brass/Brass gearing for the 6K-10K models.
Additional Features:
HT-100 carbon fiber drag system
5+1 sealed stainless steel bearing system
Line Capacity Rings
Superline spool
Where to Buy: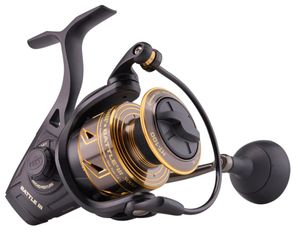 Penn Battle® III 5000 Spinning Reel
AMAZON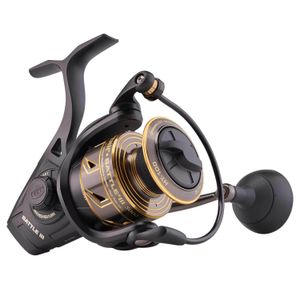 Penn Battle® III 5000 Spinning Reel
WESTMARINE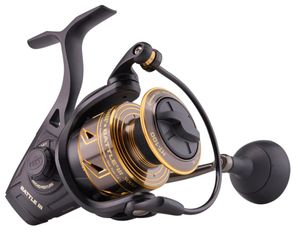 Penn Battle III Spinning Reel - BTLIII5000
TACKLEDIRECT