Shimano TAC10II Talica 2-Speed Lever Drag Reel Overview
The Shimano Talica II 2-Speed Conventional Reel is defined by its lightweight spool which is excellent for casting small live baits. This reel features High-Efficiency Gears both in high and low speeds, equipping anglers with impressive power to handle big game fishing.
This reel additionally stands out for its increased corrosion resistance, thanks to its E.I. Anti-Corrosion Surface Treatment. This coating gives the reel more than double the standard resistance of an ordinary anodized reel.
Technical Details:
Type: Conventional
Material: Cold forged aluminum frame
Drag: Lever
Ball Bearings: 6
Handle: Right
Warranty: One year
The Shimano Talica 2-Speed Lever Drag Reels have been engineered as compact, high-speed lever drags equipped with powerful gears and substantial drag curves. They are designed for fly-lining live baits or for casting segments into the chum line on Long Range stand-up tuna boats. They are ideal for using Power Pro line with short top shots, supporting the notion of "Small Reel – Big Fish!"
The TAC8II and TAC10II models are tailored for fishing with 40-50lb Power Pro line and a 30-40 Fluorocarbon leader, offering up to 13lbs of drag at strike and 20lbs at full capacity. On the other hand, the TAC12II and TAC16II models are geared for fishing with 65lb-80lb Power Pro and a 60lb-80lb Fluorocarbon top shots, with up to 22lbs of drag at strike and 40 lbs. at their peak.
Where to Buy: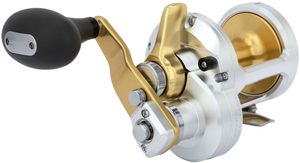 Shimano TAC10II Talica 2-Speed Lever Drag Reel
AMAZON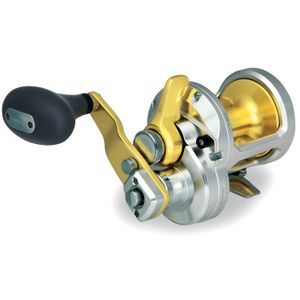 Shimano Talica II TAC10 2-Speed Conventional Reel
WESTMARINE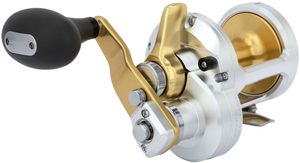 Shimano - TAC10II Talica 2-Speed Lever Drag Reel
TACKLEDIRECT