Zoom Z-Craw Worm: Unparalleled Versatility in a Hybrid Soft Bait
The Zoom Z-Craw Worm is an innovative hybrid bait that flawlessly incorporates the best features of both worm and craw styles. This unique amalgamation renders the bait exceptionally versatile, performing dexterously in a multitude of finesse biting scenarios irrespective of their stage or severity.
Design & Functionality Highlight
The hybrid finesse worm/craw bait design boosts versatility for finesse work.
The flat bottom lets the worm glide through the water with a mesmerizing, supple movement.
The trailing legs imitate a craw's undulating motion, enticing even the most reticent fish.
Its resistant, chubby body can accommodate hooks of all sizes and withstand extreme situations.
The bait benefits from added allure thanks to being salt flavored.
Zoom's Expertise for Unconventional Presentation
Combining distinctive attributes of the Mag Finesse Worm's body with the hugely popular Z-Craw's tail, the Zoom Z-Craw Worm presents an unfamiliar profile to even the most lure-weary fish. Excelling in both heavy-cover and open-water spaces, this hybrid bait holds a significant advantage in respect of adaptability to diverse fishing styles.
Fishing Application & Variants
Ideal for bottom crawling on Texas and Carolina rigs, the Z-Craw Worm can also be fished in weightless mode, performing a slow descent that proves irresistible to bass. Supplementing its versatility, the Zoom Z-Craw Worm is available in eight color patterns. These options stand testament to Zoom's time-tested expertise in crafting highly effective baits to cater for a wide range of fishing scenarios.
Where to Buy:

Zoom Z-Craw Worm
AMAZON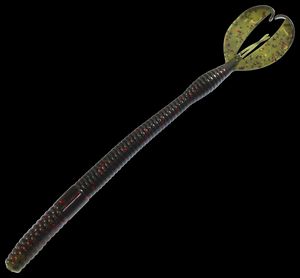 Zoom Z-Craw Worm
BASSPRO

Zoom Z-Craw Worm - Junebug
TACKLEDIRECT
Zoom Z-Craw Worm - Watermelon Red
TACKLEDIRECT

Zoom Z-Craw Worm - California 420
TACKLEDIRECT

Zoom Z-Craw Worm - Green Pumpkin
TACKLEDIRECT

Zoom Z-Craw Worm - Plum
TACKLEDIRECT

Zoom Z-Craw Worm - White Pearl
TACKLEDIRECT

Zoom Z-Craw Worm - Black Sapphire
TACKLEDIRECT

Zoom Z-Craw Worm - Red Bug
TACKLEDIRECT