13 Fishing® Black Betty FreeFall Carbon Inline Ice Fishing Reel
The 13 Fishing® Black Betty FreeFall Carbon Inline Ice Fishing Reel gives you unrivaled precision and responsiveness due to its advanced FreeFall technology. This technology allows you to visually fish in real-time, therefore increasing your chances of a successful catch.
The FreeFall trigger coupled with the line guide window and micro-adjustable magnetic drop system facilitates bait dropping to any desired depth. With an immediate re-engage functionality, you can obtain instantaneous hooksets at your convenience.
Fused with an Airfoil Carbon frame, this high-performance reel consists of a tangle-free spool cap and a smooth carbon drag. The reel's four-bearing system is equipped with instant anti-reverse functionality, enhancing its quality. For maximum comfort and control, it features EVA tech knobs. The reel possesses a 2.5:1 gear ratio and is compatible with TrickShop.
Key Features:
Airfoil Carbon frame
FreeFall trigger for precise bait dropping
Micro-adjustable Magnetic Drop Speed System
Tangle-free spool cap
Four-bearing system with instant anti-reverse functionality
Super-smooth carbon drag
EVA tech knobs for comfort and control
2.5:1 gear ratio
TrickShop compatibility
The 13 Fishing Black Betty Free Fall Carbon Ice Reel offers top-notch performance due to its firm yet lightweight frame crafted from carbon. The enhanced carbon drag system retains all the superior features that the Black Betty family of reels are known for.
This reel's revolutionary FreeFall trigger enables the angler to control the depth, facilitating instant hookups. The anti-reverse systemistantly re-engages, improving your hookup ratio. The magnetic drop speed adjustment dial offers control over the free-spool speed to achieve the ideal descent regardless of the lure's weight. A four stainless ball bearing system encourages smooth operation, while the perfect all-around gear ratio caters for shallow to mid-depth ice fishing, thus enabling the perfect presentation.
Additional Features:
Free Fall Trigger – Instant Hookup System
Free Fall Performance Window
Carbon Drag System
Lightweight Carbon Frame
Magnetic Drop Speed Adjustment
Instant Stop Anti-Reverse
Tangle Free Spool Cap
4 Stainless Steel Ball Bearings
2.5:1 Gear Ratio
EVA Tech Knobs
Where to Buy: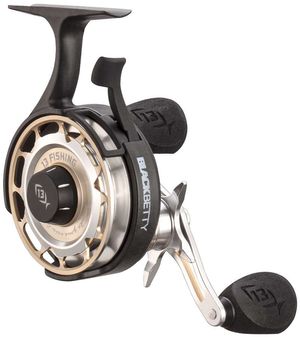 13 Fishing Black Betty FreeFall Carbon Ice Fishing Reel
AMAZON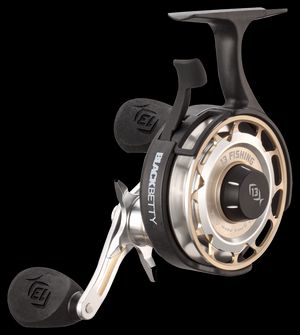 13 Fishing Black Betty FreeFall Carbon Inline Ice Fishing Reel
BASSPRO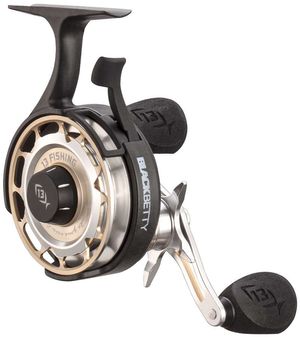 13 Fishing Black Betty FreeFall Carbon Ice Reel - BBCFFW2.5-RH
TACKLEDIRECT