Product Overview: 13 Fishing Defy Black 2 Cranking Rod
The 13 Fishing Defy Black 2 Cranking Rod is an exceptional tool, surpassed only by its immense value for bass fishing methods. The product takes significant design inspirations from the high-end rods in the 13 Fishing catalog, leaving nothing out to help you achieve your best results in the water.
Both the casting and swimbait models feature 24-ton PVG24T Japanese graphite blanks, which not only ensure durability but also support fast actions for sensitivity and backbone. Three exclusive, cranking models are concretely built on CGE1 Carbon Glass Elastomer blanks. This unique combination furnishes a composite carrying the lightweight feel of graphite along with the parabolic blank qualities of E Glass.
The rods are enhanced with Evolve Stainless Steel Alconite guides for smooth casting. All models come with high-density EVA handles in a split grip design, along with an Evolve Soft Touch Ported Reel Seat for a lightweight feel and better vibration transmission.
Product Features
PVG Japanese 24-Ton Blank Construction
Evolve Stainless Steel Alconite Guides
Evolve Snaggle Tooth Hook Keeper
Custom Evolve Seamless Reel Seat
High-Density Japanese EVA Split Grip Handle
CGE1 Blank Construction (Cranking)
Evolve Snagless Hook Keeper (Cranking)
Evolve Engage Reel Seat (Swimbait)
Evolve Foxhole Hook Keeper (Swimbait)
Where to Buy: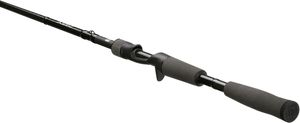 13 Fishing Defy Black 2 Cranking Rod
AMAZON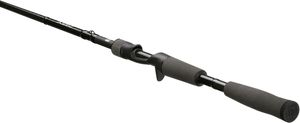 13 Fishing Defy Black 2 Cranking Rod - DB2C74C
TACKLEDIRECT
13 Fishing Defy Black 2 Cranking Rod - DB2C79C
TACKLEDIRECT