Avet HXW 5/2 2-Speed Lever Drag Casting Reel
The Avet HXW 5/2 2-Speed Lever Drag Casting Reel is a top-tier 2-speed reel, equipped with pressures in the 22-28 lb. range making it versatile for a variety of applications. It showcases a 5.4:1 gear ratio in high gear and 2.4:1 in low gear, and is made significantly efficient with its reliable avedrag dry carbon fiber drags, designed for superior stopping power, smoothness, and wear resistance.
This reel's well-thought-out features include:
A vibrant blue color
An alarm clicker
An offset machined handle arm that minimizes the centerline profile and prevents cranking wobble
A design and assembly made in the USA
Extra Avet HX Reel Features
The Avet HX Reel is enhanced with an array of precision-machined components such as the 6061 T-6 marine grade aluminum and stainless steel. The components' anodized finish ensures superior corrosion resistance and a beautiful finish. This one piece frame reel manifests ultimate strength to weight ratio. It features a powerful lever drag system with an adjustable strike pre-set, and precision machined stainless steel gears. The reel consists of Avet's patented, indestructible, and silent dog and gear anti-reverse system, promoting the most reliable system in the industry.
More of its key features are:
8 sealed stainless ball bearings
A large comfortable soft touch handle knob
Stainless steel harness lugs that are reversible and can be stored within the reel when not in use (excluding HXJ models)
A wide spool design for large line capacities
A matching machined aluminum rod clamp (excluding Non-Raptor SXJ Models)
The HX reel diameter and the HX crank handle length are both 3-3/8 in.; the HXW Raptor model features a T-Bar knob
Magic Cast Control System
The Magic Cast Control System is included on MC Models, which aids in preventing backlash and serves as a line out adjustment for live bait fishing. It features 1 through 5 cast control knob settings for different weight casting applications and is considered a standard feature on Raptor models, excluding the HXW Raptor.
Where to Buy: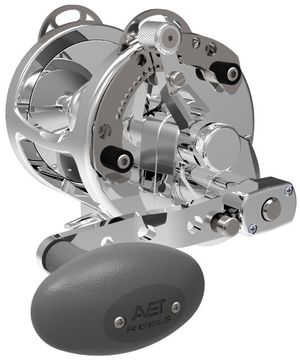 Avet HXW 5/2 2-Speed Lever Drag Casting Reel
AMAZON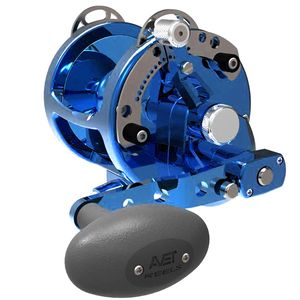 Avet HXW 5/2 2-Speed Lever Drag Casting Reel
WESTMARINE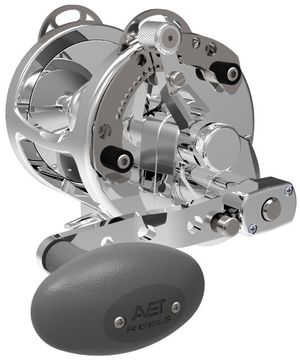 Avet Reels Avet HXW 5/2 2-Speed Lever Drag Casting Reel Silver - Left-Hand
TACKLEDIRECT