Cortland Master Braid Bronze Fishing Line
The Cortland Master Braid Fishing Line constitutes the premium quality super braid variant available in the market today in terms of robustness, longevity, and optimal handling characteristics. The fishing line is a product of braiding top-notch gel-spun fibers into a compact, round braid. Such structuring leads to a plethora of benefits, including:
Enhanced casting distance
Minimized line twist
Augmented lifespan
Uniform reel load distribution, preventing digging in
The Master Braid showcases extraordinary tensile strength accompanied by a minimal stretch percentage of merely 4%. Thus, it excels at strike detection and provides instant hook-setting. It incorporates the Fiber Tech protection treatment, which pervades the weave and amalgamates with the individual gel-spun fibers. This bonding action imparts stiffness and furthers the handling attributes of the line.
Additionally, the Master Braid possesses hydrophobic traits, successfully repelling water. This characteristic facilitates effortless casting with either spinning or casting reels. It can effectively slice through water, producing minimal line drag, and manages to return from the water in a dry state.
Where to Buy: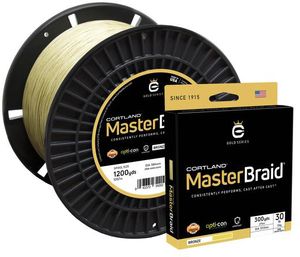 Cortland Master Braid Bronze Fishing Line
AMAZON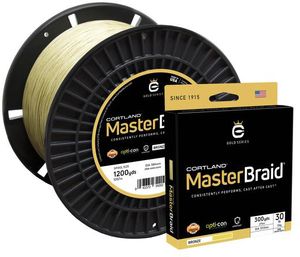 Cortland Master Braid Fishing Line - 20lb - 300yd - Bronze
TACKLEDIRECT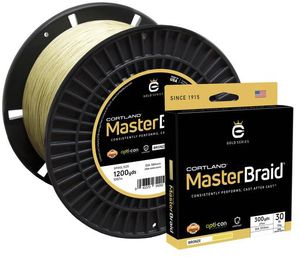 Cortland Master Braid Fishing Line - 10lb - 300yd - Bronze
TACKLEDIRECT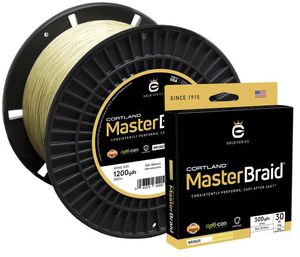 Cortland Master Braid Fishing Line - 80lb - 150yd - Bronze
TACKLEDIRECT
Cortland Master Braid Fishing Line - 50lb - 150yd - Bronze
TACKLEDIRECT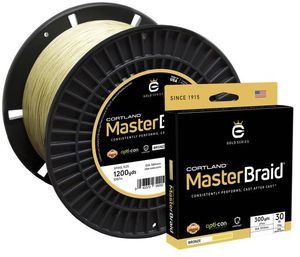 Cortland Master Braid Fishing Line - 80lb - 300yd - Bronze
TACKLEDIRECT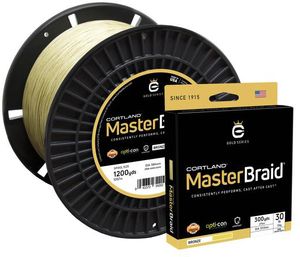 Cortland Master Braid Fishing Line - 30lb - 300yd - Bronze
TACKLEDIRECT