3M Company 5200 Fast Cure Polyether Adhesive Sealant
The 3M Fast Cure 5200 Polyether Adhesive Sealant provides a robust and watertight bond both above and below the waterline. The sealant cures into a durable and flexible adhesive, ideal for a range of applications including underwater thru-hull fittings and hull-to-deck joints. The 3M 5200 remains workable for four hours post-application and reaches full curing between 5-7 days.
Key Features
Primarily used in bedding hull-to-deck joints and other similar long-term applications
Renders a strong and flexible adhesive bond both above and below the waterline
Can bond and seal fiberglass decks to hulls and wood to fiberglass
Reacting chemically with moisture, it produces potent, flexible bonds
Forms watertight and weather-resistant seals on joints and boat hardware
Specifications
Formulation: One-part polyurethane adhesive/sealant
Recommended Usage: Suitable for permanent bonding both above and under water, offering high strength and flexibility
Material Incompatibilities: Not suitable for use with plastics such as ABS and Lexan
Cure Time: Tack-free within 48 hours; complete cure achieved in 5-7 days through a moisture-activated process
Cleanup: Cleanable with mineral spirits or kerosene
Removal: Requires a mechanical removal method
Tensile strength: 700psi
This high-performance adhesive sealant is capable of substantial tack-free curing within a 48-hour window, achieving complete cure within 5-7 days. Its curing process is not subject to shrinkage, the sealant maintains its flexibility and strength, creating a watertight seal above or below the waterline.-resistant seal.
Where to Buy:

3M Company 5200 Fast Cure Polyether Adhesive Sealant
AMAZON
3M 5200 Fast Cure Polyurethane Adhesive/Sealant, White
WESTMARINE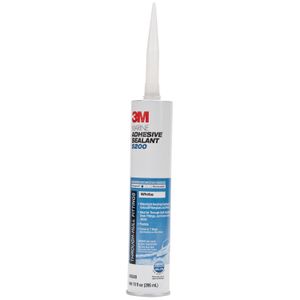 3M 5200 Polyurethane Adhesive/Sealant, White, 10oz. Cartridge
WESTMARINE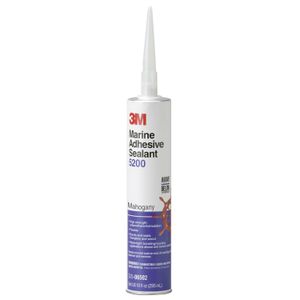 3M 5200 Polyurethane Adhesive/Sealant, Mahogany
WESTMARINE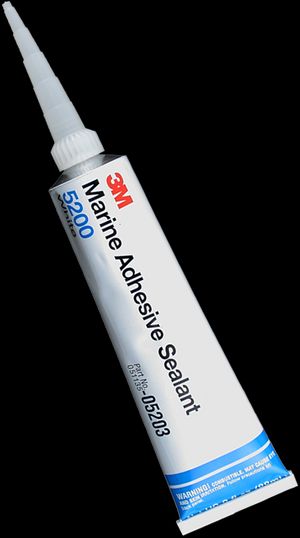 3M Marine Adhesive/Sealant 5200 for Boats
BASSPRO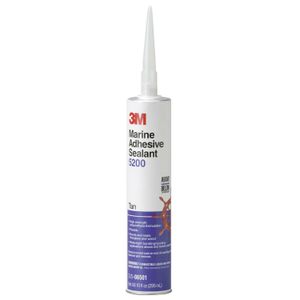 3M 5200 Polyurethane Adhesive/Sealant, Tan
WESTMARINE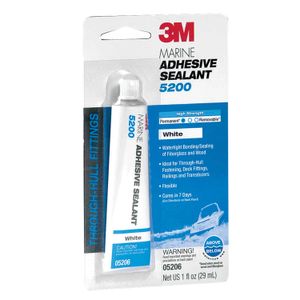 3M 5200 Polyurethane Adhesive/Sealant, White
WESTMARINE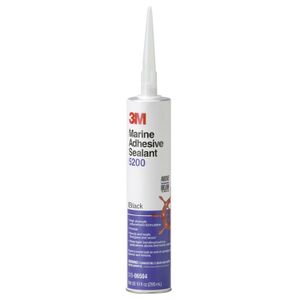 3M 5200 Polyurethane Adhesive/Sealant, Black
WESTMARINE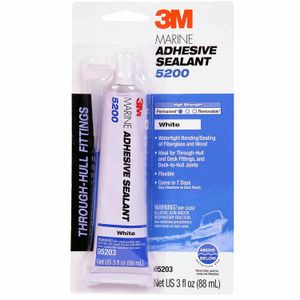 3M 5200 Polyurethane Adhesive/Sealant, White
WESTMARINE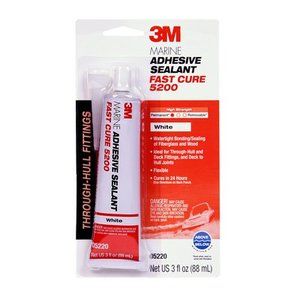 3M 5200 Fast Cure Polyurethane Adhesive/Sealant Tube, White
WESTMARINE

3M Company 3M Fast Cure 5200 Cartridge
TACKLEDIRECT
3M Company 3M Fast Cure 5200 Tube
TACKLEDIRECT