Ancor Male Heat Shrink Disconnects
The range of Ancor Male Heat Shrink Disconnects offers advanced technology to ensure a reliable and durable connection. When heated, a built-in adhesive in the sleeve of the heat shrink tubing activates, forming a water-tight seal. This provides optimal strain relief and protection against vibration.
Key Features
Corrosion resistance: The disconnects are tinned for increased durability.
Superior current flow: The usage of pure copper ensures maximum current flow.
Strength: A brazed seam assures high strength.
Certifications: These disconnects are UL listed and CSA recognised.
Product Warnings
Users should be aware that these products may expose them to chemicals like di(2-ethylhexyl)phthalate (dehp), recognized by the State of California as a cause for cancer, birth defects or other reproductive harm. For additional safety information, visit P65Warnings.ca.gov.
Product Range
Our Ancor Male Heat Shrink Disconnects come in different variants. This includes models designed for wire ranges of 22-18, 16-14, and 12-10. They are available in packages of 25 and 100.
Where to Buy:

Ancor Male Heat Shrink Disconnects
AMAZON

Ancor Male Heat Shrink Disconnects - 12-10 AWG - 100 Pack
TACKLEDIRECT

Ancor Male Heat Shrink Disconnects - 22-18 AWG - 25 Pack
TACKLEDIRECT

Ancor Male Heat Shrink Disconnects - 16-14 AWG - 25 Pack
TACKLEDIRECT
Ancor Male Heat Shrink Disconnects - 22-18 AWG - 100 Pack
TACKLEDIRECT

Ancor Male Heat Shrink Disconnects - 12-10 AWG - 25 Pack
TACKLEDIRECT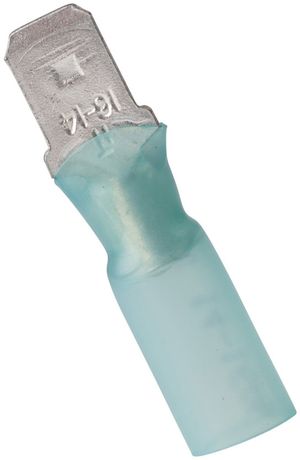 Ancor Male Heat Shrink Disconnects - 16-14 AWG - 100 Pack
TACKLEDIRECT