Furuno TZT19F NavNet TZtouch3 19″ MFD
The Furuno TZT19F NavNet TZtouch3 19″ Multifunction Display (MFD) is the epitome of power and convenience. Rigorously developed with customer feedback, Furuno has redesigned this MFD to be the most user-friendly device in the market. It not only offers the power you have always desired but enhances it further. Available in sizes such as 12", 16" and 19", the MFD presents in-built features such as a quad-core processor, a GPS receiver (in TZT12F & TZT16F models only), and an internal 1kW Tru Echo CHIRP™ Fish Finder to ensure immediate usability out of the box. Furthermore, users seeking amplified power can simply integrate the brand new 2/3kW Deep Impact Tru Echo CHIRP™ Amplifier or 100W/200W NXT Solid-State Doppler Radars. To underline data security, the PIN Code Lock feature enforces a four-digit password for system startup.
Notable Features
Integrated Dual Channel 1kW Tru Echo CHIRP™
19″ multi-touch IPS displays
Optional DI-FFAMP Tru Echo CHIRP™ Fish Finder Amplifier offering 2kW or 3kW to cater to your deep-sea fishing needs. Also allows a 5kW or 10kW transducer connection (BT-5 needed).
High-power 100W or 200W Solid-State Doppler Radar with Target Analyzer™, Fast Target Tracking™, Bird Mode and Rain Mode
Quad-screen display to present 1, 2, 3, or 4 different functions
Compatibility with NavNet TZtouch2 Networks
Create routes using TZ Navigator, web browser or TZ iBoat iOS App and then sync with the cloud to the TZtouch3 system. (Cloud. My Timezero. com raster planning charts for US only)
Record your catch and location through the TZ First Mate App
Data sync capability with tablets or smartphones
Add Autopilot, Instruments, Radar, AIS, Multi-Beam Sonar, and other sensors to the TZtouch3 network
Full Autopilot control if linked with NAVpilot-300/711C.
Furuno NavNet TZtouch3 12″ MFD
The Furuno NavNet TZtouch3 provides identical features as the 19" FHD but caters to a different audience with its compact 12" size. It inherits the same user-friendly interface, robust quad-core processor, dual channel CHIRP, GPS Receiver (on TZT12F model only), and other fundamental features. Powerful optional add-ons like the 2/3kW Deep Impact Tru Echo CHIRP™ Amplifier or 100W/200W NXT Solid-State Doppler Radars are also supported. System startup is secured by the PIN Code Lock which requires a four-digit password.
Notable Features
In-built Dual Channel 1kW Tru Echo CHIRP™
In-built GPS Receiver on TZT12F
Hybrid Control 12" display with Rotokey™ and buttons for enhanced accessibility
Optional DI-FFAMP Tru Echo CHIRP™ Fish Finder Amplifier operating 2kW and 3kW for deeper waters. Also allows a 5kW or 10kW transducer connection (BT-5 needed)
High-power 100W or 200W Solid-State Doppler Radar
Quad-screen display
TZ Navigator for route creation and sync
TZ First Mate App for map and catch data log
Complete system control with NAVpilot-300/711C connection
Where to Buy: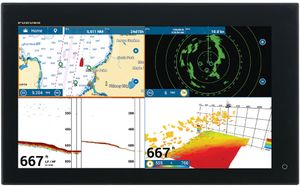 Furuno TZT19F NavNet TZtouch3 19 in. MFD
AMAZON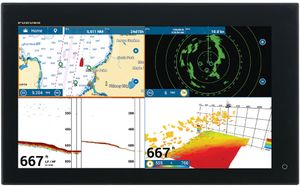 Furuno NavNet TZtouch3 19 in. MFD w/ 1kW Dual CHIRP Sounder
TACKLEDIRECT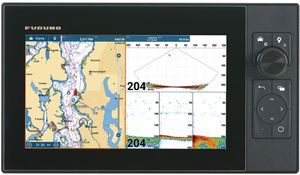 Furuno NavNet TZtouch3 12 in. MFD w/ 1kW Dual CHIRP Sounder & GPS
TACKLEDIRECT