Garmin Airmar B150M Thru-Hull CHIRP Transducer
The Garmin Airmar B150M Thru-Hull CHIRP Transducer caters to the increasing demand for the game-changing technology of CHIRP in recreational fishing. This transducer offers a total bandwidth of 60kHz, CHIRPing across the medium frequency range from 95-155kHz.
The B150M is an economical model suited for inshore and coastal fishing within shallow to medium depths. It is also appreciated by freshwater anglers who value its utility in spotting fish near structures and suspended fish. For enhanced coverage, it provides wider arches and a beamwidth of 26–17°.
Key Features
Equipped with a sensor for depth and water temperature
Ideal for inshore, coastal, or freshwater fishing in shallow to medium depths
Track bottom at high boat speeds
Large under-boat coverage area
Hull Type compatibility: Fiberglass, wood, or metal
Includes one internal ceramic element
Specifications
Style: Thru-hull
Cable Length: 39′
Connector: 8-pin
Hull Deadrise Angles: 16°-24° degree deadrise
Monitors: Depth and Temperature
Material: Bronze
Transmit Power: 300W
Frequency: 95-155 kHz (Medium CHIRP)
Max. Depth: 750′
Beamwidths: 26°-17°
In addition, the transducer features a flush-mounted bronze housing with an internal tilted element which accommodates all hull deadrises and eliminates the need for a fairing block. It delivers excellent performance with fiberglass and wood hulls and provides sufficient depth capability and effective target separation. The unit's supported hull deadrise/transom angles range from 0-7° to 16-24°.
Where to Buy: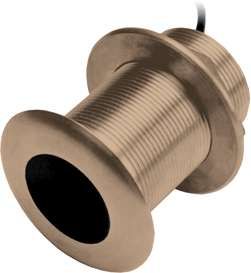 Garmin Airmar B150M Thru-Hull CHIRP Transducer
AMAZON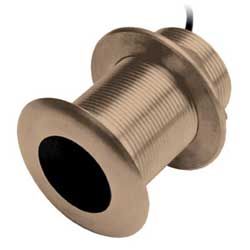 Garmin Airmar B150M 20° Tilt Thru-Hull CHIRP Transducer
WESTMARINE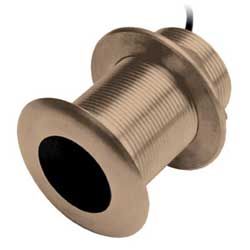 Garmin Airmar B150M 0° Tilt Thru-Hull CHIRP Transducer
WESTMARINE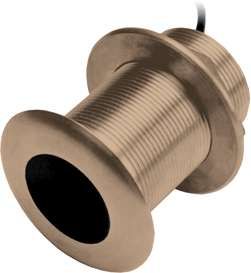 Garmin B150M Bronze 20° Thru-Hull Transducer - 300W, 8-Pin
TACKLEDIRECT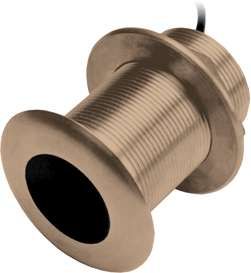 Garmin B150M Bronze 0° Thru-Hull Transducer - 300W, 8-Pin
TACKLEDIRECT