Garmin GSD™ 25 Premium Sonar Module
The Garmin GSD™ 25 Premium Sonar Module is a premium remote network sonar solution. This high-end model offers an exceptional fishfinding with superb bottom tracking capabilities.
Scanning Sonar Images
The GSD™ 25 delivers the most detailed CHIRP ClearVü and SideVü scanning sonar images in the industry. The resolution, target separation and clarity of the sonar images offer an unparalleled view of fish and structure. Compatible Garmin chartplotters receive images with target details so precise and distinguishable that users can separate even small and closely spaced fish at depths down to 5,000 feet.
True Dual-channel 1kW CHIRP
This sophisticated module includes a true dual 1kW CHIRP as the mainline sonar technology for advanced target resolution and clarity. The CHIRP functionality, standing for Compressed High-Intensity Radiated Pulse, ensures a significantly better viewing experience than any other sonar system. To optimise sonar performance, users can adjust CHIRP frequencies to different settings.
In order to ensure the best performance, Garmin has developed proprietary transducers, sold separately, that are specifically designed to work with this advanced sonar system.
Specifications
Frequency: Traditional: 50/200, 77/200, 83/200kHz, Single/Dual Channel CHIRP: 40-250kHz, SideVü/DownVü: CHIRP 455/800kHz and CHIRP 260/455kHz
Transmit Power: 1kW
Max. Depth: 5,000 ft
Dimensions: 9 7/8″W x 7 5/8″L x 2 5/8″D
Data Interface: Ethernet
Transducer: Sold separately
Waterproof Rating: IPX7
Warranty: Two years
Components Included in the Box
GSD 25 Premium Sonar Module
Right-angle power cable (6′)
Right-angle network cable (6′)
Mounting hardware
Documentation
Transducer Options
This product operates best with select transducers, sold separately. To complete your installation, choose from the following transducers, based on the specific readings needed:
Adjust content based on styling: Table of multiple transducer types and their specs, Model numbers etc.
Notable Compatibility
The Garmin GSD™ 25 Premium Sonar Module is compatible with devices such as GPSMAP 8000 Glass Helm Series and the GPSMAP 7400/7600 Series Displays, among others.
Where to Buy: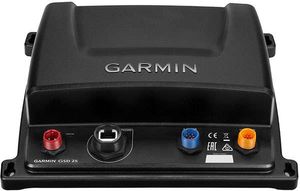 Garmin GSD™ 25 Premium Sonar Module
AMAZON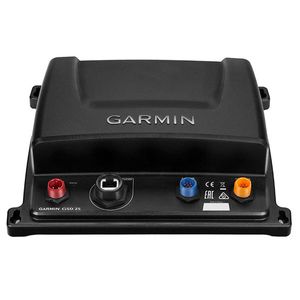 Garmin GSD™ 25 Premium Sonar Module
WESTMARINE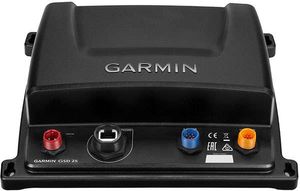 Garmin - 010-01159-00 GSD 25 Premium Sonar Module
TACKLEDIRECT