Garmin GSD™ 26 CHIRP Professional Sonar Module
The Garmin GSD 26 is a remote CHIRP sounder module developed with professional sport angling in mind. Its spread spectrum technology scans multiple frequencies simultaneously, yielding vast data quantities and providing precise target separation even at great depths of up to 10,000′.
Key Features
Spread Spectrum Technology: Provides precise, shallow-water-like target separation at much greater depths.
Traditional Sonar: Allows frequency adjustments, ranging from low 25kHz to high 210kHz, to target specific species of sport fish.
Dual-Transceivers: Facilitates simultaneous, independent dual transducer operation, enhancing screen updates and below-the-surface interpretations.
Selectable Transmit Power: Offers a selectable transmission power ranging from 300 to 3,000 watts, with compatibility for Garmin's newest broadband transducers.
Specifications
The GSD 26 offers manually adjustable frequencies from 25kHz to 210kHz and a selectable transmit power of 300-3,000W. It can detect up to a maximum depth of 10,000′. The module measures 14 11/16″W x 10 13/16″L x 3 15/16″H and is compatible with the Garmin Marine Network for display on the latest Garmin GPSMAP® 4000/5000, and 6000/7000/8000 series displays. The necessary power cable, 6′ marine network cable, mounting hardware, and SD card are included. Please note: a transducer is sold separately. The device has an IPX7 waterproof rating and a two-year warranty.
In The Box
Purchasers will receive the GSD 26, power cable, a 6′ marine network cable, mounting hardware, software update SD card, and documentation.
Transducer Options
For optimal operation, we recommend pairing the GSD 26 with our select transducers (sold separately). These will provide depth, speed, and/or temperature readings. Ensure you order one of the following transducers to complete your installation:
| Transducer Type | Reading(s) | Transmit Power | Max. Depth | Material | Model |
| --- | --- | --- | --- | --- | --- |
| CHIRP Airmar B265LM Thru-Hull (Bare Wire) | Depth/Temperature | 1 kW | 3,000′ | Bronze | 13178736 |
| CHIRP Airmar R109LH Thru-Hull (Bare Wire) | Depth/Temperature | 2 kW | 8,000′ | Plastic | 13178744 |
Designed for demanding sport fishing applications, the GSD 26 utilizes Spread Spectrum technologies for superior target definition, contour detailing, and noise suppression, even at great depths. The module enables manual frequency adjustments for optimal gamefish targeting, and its dual transceivers support independent transducer operation for customized usage.
Where to Buy: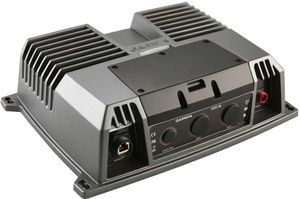 Garmin GSD™ 26 CHIRP Professional Sonar Module
AMAZON
Garmin GSD™ 26 CHIRP Professional Sonar Module
WESTMARINE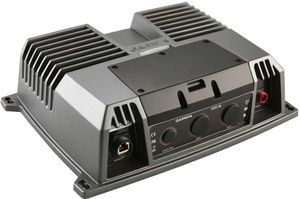 Garmin GSD 26 Digital Black Box Network Sounder w/ Spread Spectrum
TACKLEDIRECT