Hooker Electric Penn 70VIS Electric Reel
The Hooker Electric Penn 70VIS Electric Reel presents a powerful combination of the durability of the Penn International 70VIS and the robust 2HP 12/24VDC brushless motor from Hooker Electric. The expansive opportunity this reel provides is not just limited to surface fishing but extends the possibilities to deep sea exploration. The innovative design, coupled with the multi-purpose functionality, makes this reel an ideal choice for any angler.
Main Features of Penn International 70VIS Reel
The reel includes the following key features:
A machine-cut stainless steel main enhances its durability and efficiency
Highly resistance to heat, rendering it operable under most conditions
Four aircraft-grade, sealed, stainless steel ball bearings which boost the unit's longevity
Quick-Shift II 2-speed system for maximum control
A Dura-Drag system to handle even the heaviest of catches
High mono and braid capacity permitting longer line time in water
Comfortable soft grip handle for extended use
Unique Attributes of the Hooker Electric Attachment
Highlighting the electric attachment features:
A potent 2HP brushless 12/24VDC motor for unmatched power
A full variable speed control for utmost flexibility and precision
A detachable drive sporting spring-loaded push-pins
A button-controlled speed-control knob and a 100 ft-range 2-button remote for hands-free operation
Incorporating the aforementioned features, the Hooker Electric Penn 70VIS Electric Reel is a high-performance device that performs well in diverse fishing activities such as deep-dropping, trolling, pulling dredges and wrestling daytime swordfish. Its compact size and removable Hooker Electric Drive Unit offer anglers the option to handle their fishing personally for a much more invigorating experience.
Where to Buy: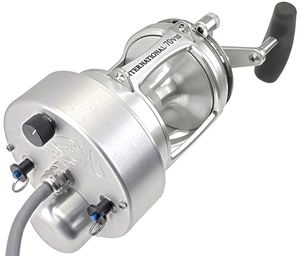 Hooker Electric Penn 70VIS Electric Reel
AMAZON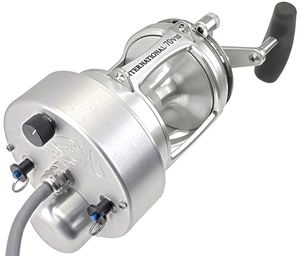 Hooker Electric Penn 70VIS Electric Reel w/ Detachable Motor - Gold
TACKLEDIRECT