Professional Overview of Lowrance Elite FS 7 Fish Finder/Chartplotter
The Elite FS 7 Fish Finder/Chartplotter from Lowrance® merges state-of-the-art fish-finding mechanisms with reasonable, easy-to-install displays. It comes equipped with notable features such as Lowrance CHIRP sonar, SideScan, DownScan Imaging™, and preloaded C-MAP® Contour+ Fishing Maps. This makes an ideal combination for locating and catching more fish, minimizing your time spent searching.
Key Features
Network capability
High-resolution, multitouch display
C-MAP Contour+ charts preloaded
Compatibility with various C-MAP and other charts
FishReveal for easy fish recognition
Integrated wireless, NMEA 2000®, and Ethernet connectivity
The Elite Fishing System (FS)
This innovative technique amalgamates Lowrance's most powerful and latest fish-finding tools within a budget-friendly display. It includes features such as ActiveTarget™ live sonar and high-resolution Active Imaging™. The remarkable fish-tracking technology offers a refined, detailed view of underwater structures compared to conventional imaging techniques.
ActiveTarget™ Live Sonar
This feature provides real-time tracking of fish activities, helping you strategize effectively. You can observe their response to your lure, helping you adapt your methods as necessary for a successful catch.
C-MAP Contour+ Mapping
The high-resolution mapping capability of C-MAP Contour+ charts simplifies your fishing experience by guiding you to key fishing areas. The high-resolution, 1-foot contours on 8,900 U.S. lakes will enhance your success rates on the water.
Additional Features
Full touchscreen control of Power Pole® anchors and Ghost® Trolling Motor
Best in class mapping (AMER ONLY)
Variants of Elite FS 7 Fish Finder/Chartplotter
Chartplotter/Fishfinder with no Transducer
Notable attributes include a 7″ Display, optional Active Target™ live sonar and transducer, and included high-resolution multi-touch touchscreen.
Chartplotter/Fishfinder with HDI Transom Mount Transducer
This variant includes an HDI transducer with Lowrance CHIRP and Down Scan Imaging™ in addition to the standard features.
Chartplotter/Fishfinder with Active Imaging™ 3-in-1 Transom Mount Transducer
The Active Imaging™ 3-in-1 transom mount transducer is included in this variant.
Where to Buy: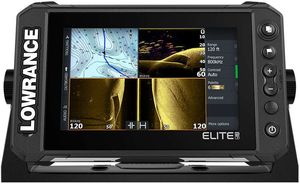 Lowrance Elite FS 7 Fish Finder/Chartplotter
AMAZON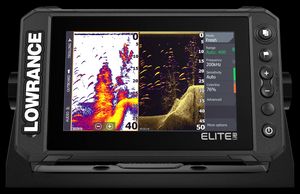 Lowrance Elite FS 7 Fish Finder/Chartplotter Combo
BASSPRO
Lowrance Elite FS 7 Fishfinder/Chartplotter Combo with HDI Transducer and C-MAP Contour Charts
WESTMARINE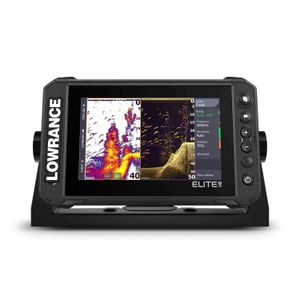 Lowrance Elite FS 7 Fishfinder/Chartplotter Combo with Active Imaging 3-in-1 Transducer and C-MAP Contour Charts
WESTMARINE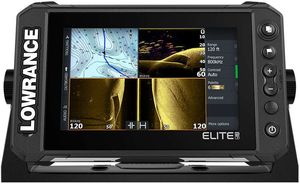 Lowrance Elite FS 7 Chartplotter/Fishfinder - No Transducer
TACKLEDIRECT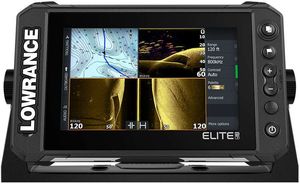 Lowrance Elite FS 7 w/ HDI Transom Mount Transducer
TACKLEDIRECT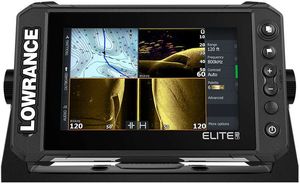 Lowrance Elite FS 7 w/ Active Imaging 3-in-1 Transom Mount Transducer
TACKLEDIRECT