The SHURFLO® Pro Baitmaster™ II: High-Power Dual-Purpose Livewell and Washdown Pump
Boasting a dual-purpose design, smooth operation, and superior power, the SHURFLO® Pro Baitmaster™ II stands as an optimal choice for your boat's livewell and washdown pump. This robust equipment can generate a remarkable 45psi of power while providing the flexibility necessary to adapt to a range of tasks. It delivers a pumping capacity of 240gph, making it suitable for handling tanks with a capacity of up to 35 gallons. Equipped with self-priming capabilities, it can handle a 6-foot vertical rise above the external water level. Highly resistant to splashed liquids, the pump comprises a seamless motor shell and a sealed switch.
Key Features
Integral thermal breaker with auto-reset mechanism.
Designed to be ignition-protected.
Equipped with male ½" NPS inlet and outlet ports.
Comes with an inlet strainer and ½" barb hose fittings.
Dimensions of the pump are 10″L x 5″W x 4-3/4″H.
Comes with a two-year manufacturer's warranty.
The SHURFLO®Pro Baitmaster™ II Heavy-Duty Livewell and Washdown Pump offer a dual-purpose design to adeptly handle livewell tasks. With the powerfulness of a 45psi pressure, it also serves as an effective washdown pump. The self-priming pump, with a capacity to pump 240gph and cater to tank sizes up to 35 gallons, rises 6 feet vertically above the outer water level. Its motor shell and switch are built to resist splashed liquids. The pump is equipped with an integral thermal breaker with an auto-reset option and is built to be ignition-protected.
Where to Buy: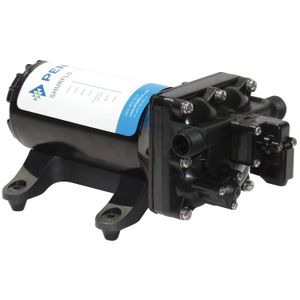 Shurflo Pro Baitmaster II Pump
AMAZON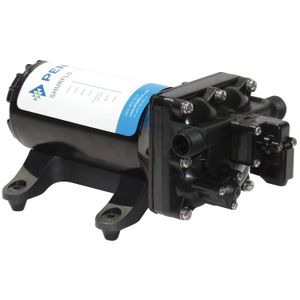 Shurflo Pro Baitmaster II Heavy-Duty Livewell and Washdown Pump, 12VDC
WESTMARINE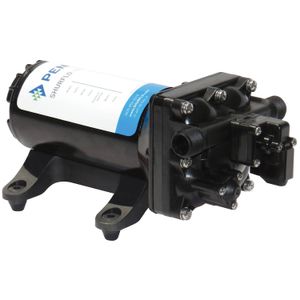 Shurflo Pro Baitmaster II Heavy-Duty Livewell and Washdown Pump, 24VDC
WESTMARINE