SIMRAD® GO12 XSE Fishfinder/Chartplotter
The SIMRAD® GO12 XSE Fishfinder/Chartplotter features Active Imaging™ 3-in-1 Sonar and C-MAP DISCOVER Chart, offering you the most from your day on the water. This multifunctional display includes integrated GPS receiver, echosounder, wireless connectivity, and the industry-standard NMEA 2000® networking.
Key Features
12″ high-resolution display
GPS receiver
Echosounder
NMEA 2000 connectivity
User-friendly menus and touch-based controls
Customizable waypoint system
Included DISCOVER chart with ultra-wide coverage in the US and Canada
C-MAP Easy Routing
Wireless connectivity and control via smartphone or tablet
Active Imaging 3-in-1 sonar
The GO12 XSE offers the convenience of smartphone- and tablet-like operation with its touch-screen interface. The home screen is customizable for quick access to the most frequently used features. The features enable users to mark waypoints, assign significant names, and symbols, and utilize adjustable split-screen views.
Chartplotter Navigation & Waypoint Management
The GO12 XSE presents a full-featured chartplotter with support for a range of cartography options including C-MAP® MAX-N and Navionics®, ensuring confident navigation towards any destination. Waypoints can be easily set and recorded with a simple touch and provide meaningful names which make destination lookup effortless. The device also has support for GoFree™ Wi-Fi enabling Navionics Plotter Sync waypoint synchronisation.
Enhance Your View with Simrad Radar Solution
Equipped with plug-and-play connectivity to Simrad Broadband 3G™, Broadband 4G™, and HALO™ Pulse Compression radar systems, the Simrad GO12 XSE is a fully featured radar display allowing users to confidently navigate through crowded harbours and poor visibility conditions.
Fish Finding Capabilities
With Active Imaging Imaging 3-in-1 sonar, the system provides clear vision of fish-holding structures. The integrated CHIRP Sonar offers excellent clarity and target separation, while SideScan and DownScan Imaging™ grant detailed visuals of reefs, drop-offs, and wrecks.
Product Specifications
Display Type: 16-bit color TFT
Screen Size: 12″ diagonal
Screen Resolution: 1280 x 800
Dimensions: 12 3/16″W x 8 5/8″H x 3 1/4″D
Voltage: 10-17V DC
Waterproof Rating: IPX6 and IPX7
Warranty: Two years
Please note: The built-in GPS receiver works optimally in any bracket-mount installation and when flush-mounted with most fibreglass hulls. It may, however, require an external GPS receiver like the Simrad GS25 for flush-mounting in a metal-hulled vessel.
Where to Buy: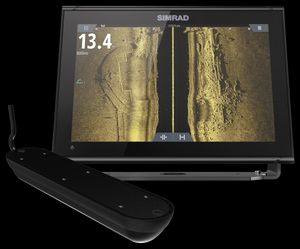 Simrad GO12 Fishfinder/Chartplotter
AMAZON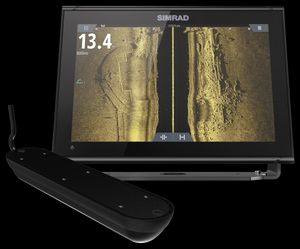 Simrad GO12 XSE Chartplotter with Active Imaging 3-in-1 Sonar and C-MAP DISCOVER Chart
BASSPRO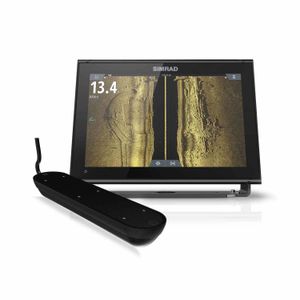 Simrad GO12 XSE Fishfinder/Chartplotter Combo with Active Imaging™ Transducer and Navionics+ Charts
WESTMARINE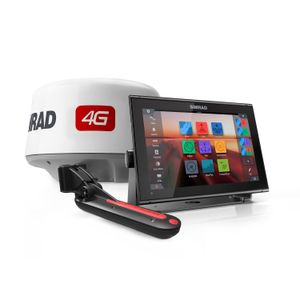 Simrad GO12 XSE Chartplotter Navigation Display with 4G™ Radar and TotalScan™ Transducer
WESTMARINE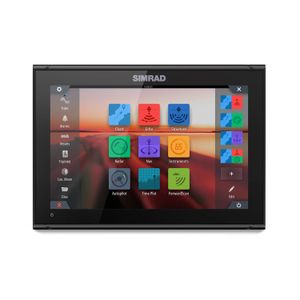 Simrad GO12 XSE Chartplotter Display with TotalScan Transducer and Navionics+ Charts
WESTMARINE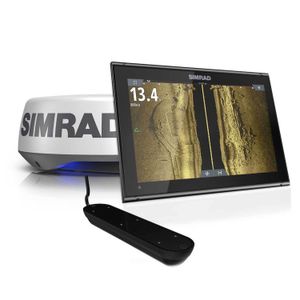 Simrad GO12 XSE Fishfinder/Chartpotter Combo with C-MAP Charts, Active Imaging 3-in-1 Transducer and HALO 20+ Radar Bundle
WESTMARINE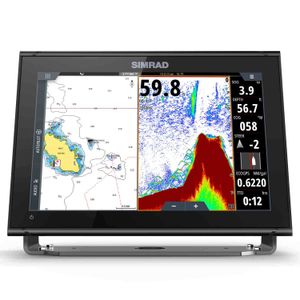 Simrad GO12 Fishfinder/Chartplotter Combo with Active Imaging™ Transducer
WESTMARINE